Chao-wen "Gina" Chen
was the main artist behind the
Aqua Pets
game. She designed all of the visual elements in the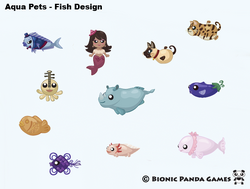 game from the beginning up until the update on
October 28th, 2013
(including both the old style
Giant Sea Panda
, as well as the newer version).
According to the artist's website, she was born and raised in Taiwan before moving to San Francisco, California. She has a Bachelor of Fine Arts degree in 2D Animation Visual Development from the Academy of Art University.
She enjoys puzzle/casual games, gaining inspiration from them. Gina is currently making other games for iphones and tablet use.